Move-In Days
Fall 2018
First-year move-in starting at 8:00 am on August 22, 2018. Returning students can move in anytime after 8:00 am on Thursday, August 23.
Moving In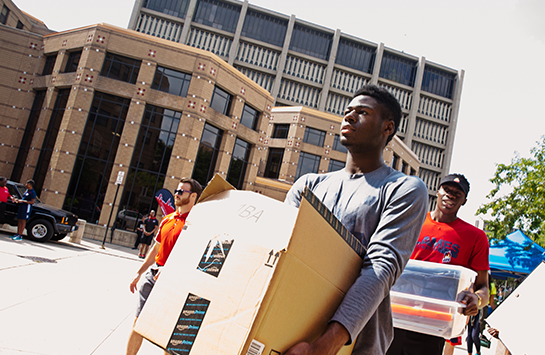 The residence halls are scheduled to open on Thursday, August 23 at 8:00 am. We invite new first-year students to move-in on Wednesday, August 22.  (Monday, August 27 is the first day of classes.)
If you are planning to arrive before Wednesday, August 22, please sign up for interim housing. Students will pay a small per-night fee for interim housing.
If you are planning to arrive after Monday, August 27, please contact the Housing Office (housing@uic.edu) so that your late arrival will not be mistaken for a change in your housing plans.
Change of Plans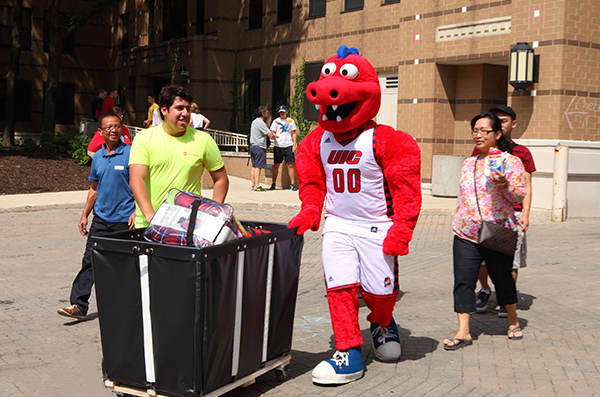 If you have changed your plans and will not be occupying the room to which you've been assigned, you would be helping out another student by informing us of a change of plans as quickly as possible. Returning residents must come to the Central Housing Office to fill out Contract Cancellation paperwork. You may contact us via phone at (312) 355-6300 or via email at housing@uic.edu.
Parking
Parking passes are not available for the main city streets by the residence halls, it is encouraged that you have someone available to remain with your vehicles while you are moving belongings in and checking in.
What to Bring
The University provides each resident with a bed, twin mattress, desk, desk chair, drawer space, and closet/wardrobe space. Storage space in student rooms is extremely limited (usually just a small closet/wardrobe, dresser, and under bed space), so please don't over pack. You may also want to coordinate bringing larger items with your roommates where possible. Below is a suggested packing list to help make you feel at home at UIC.
Extra-long twin bed sheets, pillows, pillowcases, comforter – Save yourself a trip to the store and order your sheets, towels, pillows, and more online at ocm.com/UIC. Proceeds from this program go to Residence Hall Association and are used for programming in the residence halls
Towels, toiletries, & a bin to hold them in
Laundry bag/hamper, detergent, stain remover
Seasonal Clothing (Don't forget a raincoat/umbrella & winter boots)
Shower sandals
Cell phone charger
Computer and accessories (computer labs are also available for residents in each building)
Non-halogen desk lamp or other bright light for reading
Poster adhesive, removable hooks – 3M strips and hooks are great!
Medication
Alarm clock
Power strip with surge protection
Photo ID, driver's license, state ID card or passport (If you plan to work on or off campus, you will need a Social Security Card, birth certificate, or US passport for paperwork)
If you are interested in renting a micro-fridge for your room, please work with our partner, Bedloft.com.
Leave the following items at home:
Microwaves (unless rented through our partner, Bedloft.com or in SSR and PSR under 1000 watts)
Heating or cooking appliances (hot pots, toasters, space heaters, coffee makers without auto shutoff, etc.)
Refrigerators with interiors larger than 4.6 cubic feet (you can rent a microfridge through our partner, Bedloft.com)
Halogen lamp
Candles, incense, fireworks, explosives, incendiaries, firearms, and other similar items
Weapons/firearms
Air conditioning units
Waterbeds
Pets (Fish are allowed in a 30-gallon aquariums max)
Hoverboards
Wireless Routers (for help with internet, please visit housing.uic.edu/internet)