Campus Housing Honors Professor's Excellence at third annual "HOPE" awards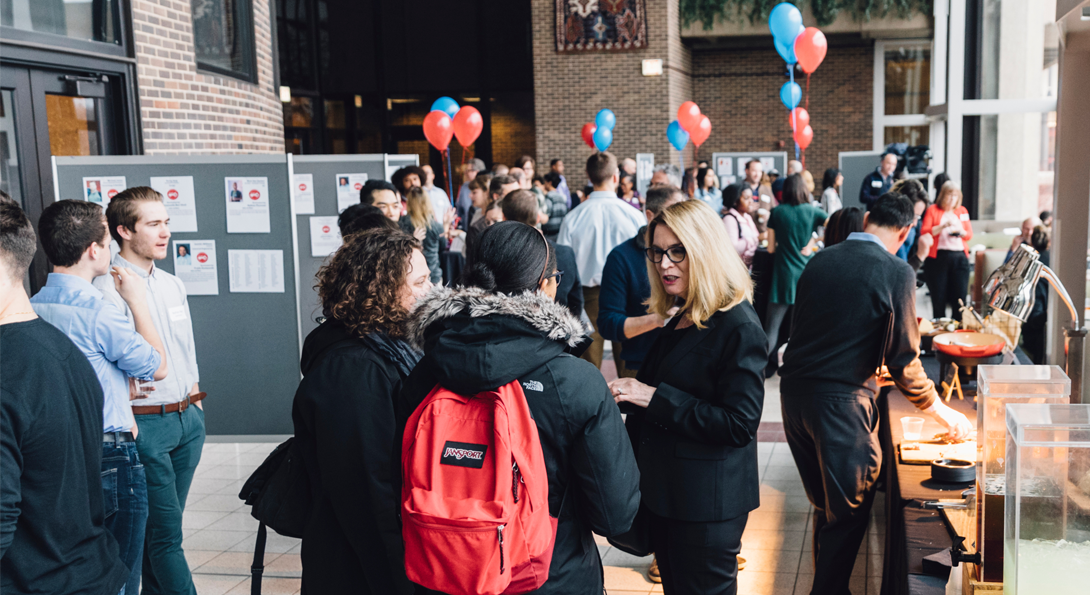 On April 3, 2018, Campus Housing hosted its third annual "Honoring Our Professors' Excellence" (HOPE) Reception to recognize faculty who have made a lasting impact on the lives of Housing residents. Fifty-five Housing residents nominated seventy-two faculty members in more than thirty different departments across the campus. Campus Housing staff solicited the nominations, and invited the nominating students to join their nominees, along with department heads and other students, faculty, and staff to a reception in the East Terrace of Student Center East.
"We know that there are hundreds of faculty who regularly go above and beyond to help their students get the most out of their experience; often those efforts happen without much fanfare. So we wanted to take a moment and let faculty know that their efforts are appreciated" said Nick Ardinger, Assistant Director for Residential Education with Campus Housing.
"Campus Housing tries to make a big university feel smaller for our residents; these nominations help to point the way for other residents. When a nominator says, 'He asked us about our interests, our backgrounds, our passions, and our hobbies; and, not just on the first day, but he did this throughout the semester,' it sends a powerful message to other students, and helps those faculty see that their work does not go unnoticed."
"We know that having a connection with a faculty member correlates to being more likely to graduate, so we want to make it easy for our students to connect with faculty. We are constantly looking for ways to develop collaborations between faculty and Housing students and staff," said Ardinger.
Some nominations highlighted faculty's commitment to teaching: "she can make a class of 150+ students feel really intimate." Other nominations have highlighted faculty members' willingness to address issues outside the classroom, "[He has] provided me the chance to grow in ways I could not imagine." And some nominations were even amusing: "I'm also impressed with his outfit. He looks so cool." But all nominations reflect faculty members who show a strong commitment to both their material and to their students.
The more than one hundred people in attendance at the event comprised student nominators and their faculty nominees, nominees' guests and department heads, and Housing staff. The texts of all nominations were placed around the room for attendees to read as they mingled and enjoyed light refreshments. At the formal ceremony, nominees received a lapel pin and a certificate with the text of their nomination and had the chance to have a photo taken together with their nominator.
List of Nominated Faculty
| Faculty Name | Faculty Title | Department |
| --- | --- | --- |
| Benjamin Antieau | Associate Professor | Mathematics, Statistics, and Computer Science |
| Vered Arbel | Visiting Instructor | Kinesiology & Nutrition |
| Anna Arzuaga | Student - Graduate College | Biological Sciences |
| Christopher Baker | Lecturer | Psychology |
| Adrian Barkan | Lecturer | Physics |
| Gregor Baszak | Teaching Assistant | English |
| Brian Bauer | Professor | Anthropology |
| Sid Bhattacharyya | Department Head and Professor | Information and Decision Sciences |
| Jessica Bird | Visiting Assistant Professor | Criminology, Law, and Justice |
| Kate Boulay | Senior Lecturer | English |
| Robert Capetta | Lecturer | Mathematics, Statistics, and Computer Science |
| Gerardo Castillo | Lecturer | Mathematics, Statistics, and Computer Science |
| John Coumbe-Lilley | Clinical Assistant Professor | Kinesiology & Nutrition |
| Carol Courtney | Clinical Professor | Physical Therapy |
| Alexander Demos | Visiting Assistant Professor | Psychology |
| Vi Diep | Student - Graduate College | Mathematics, Statistics, and Computer Science |
| Kathryn Engel | Director of Internships in Applied Psychology and Lecturer | Psychology |
| Danilo Erricolo | Professor | Electrical and Computer Engineering |
| Nicholas Glass | Student - Graduate College | Biological Sciences |
| Christopher Glomski | Lecturer | English |
| Anna Guevarra | Director and Associate Professor, Asian American Studies | Global Asian Studies |
| Maureen Heffern Ponicki | Student - Graduate College | Political Science |
| John Herrmann | Clinical Assistant Professor | Community Health Sciences |
| Hannah Higgins | Professor | Art History |
| Kathryn Howard | Student - Graduate College | Psychology |
| Daniel Ingebretson | Lecturer | Mathematics, Statistics, and Computer Science |
| Johari Jabir | Assistant Professor | African American Studies |
| Sung Jang | Assistant Professor | Design |
| Ronald Jastrzebski | Adjunct Lecturer | Accounting |
| Demetra John | Associate Dean for Academic and Student Affairs | Rehabilitation Sciences |
| Michael Jones | Clinical Assistant Professor | Kinesiology & Nutrition |
| Olga Kashcheyeva | Research Assistant Professor | Mathematics, Statistics, and Computer Science |
| Salman Khetani | Associate Professor | Bioengineering |
| Jessica Larsen | Teaching Assistant | Communication |
| Matthew Lippman | Professor Emeritus | Criminology, Law, and Justice |
| Matthew Lucas | Assistant Professor | Women, Children, and Family Health Science |
| Liliana Macias | Student - Graduate College | Latin American and Latino studies |
| Robert Paul Malchow | Associate Professor | Biological Sciences |
| Greg Matoesian | Professor | Criminology, Law, and Justice |
| Linda McCreary | Clinical Associate Professor | Health System Science |
| Suzanne McCutcheon | Clinical Assistant Professor | Biological Sciences |
| Sarah Miller | Student - Graduate College | German |
| Michael Muller | Senior Lecturer | Biological Sciences |
| Howard Nuer | Research Assistant Professor | Mathematics, Statistics, and Computer Science |
| Jennifer Olson | Clinical Assistant Professor | Curriculum and Instruction |
| Alyson Patsavas | Visiting Clinical Assistant Professor | Disability and Human Development |
| Ursula Perez-Salas | Assistant Professor | Physics |
| Yury Polikanov | Assistant Professor | Biological Sciences |
| Dale Reed | Clinical Professor | Computer Science |
| Jose Riojas | Assistant Professor/Director of Bands | Music |
| Paul Rodriguez | Visiting Lecturer | Business Career Center |
| Karen Ros | Lecturer | Classical Literature |
| Jenna Rowen | Associate Director of OAPS | Psychology |
| Amanda Roy | Assistant Professor | Psychology |
| Paul Schewe | Associate Professor | Criminology, Law, and Justice |
| Tina Schmidt-McNulty | Visiting Instructor | Kinesiology & Nutrition |
| Amie Schuck | Associate Professor | Criminology, Law, and Justice |
| Julie Schwind | Clinical Assistant Professor | Biobehavioral Health Science |
| Joshua Scott Judd | Lecturer | Accounting |
| George Scully | Adjunct Lecturer | Accounting |
| Andrew Shulman | Senior Lecturer | Mathematics, Statistics, and Computer Science |
| Roman Shvydkoy | Director of Undergraduate Studies | Mathematics, Statistics, and Computer Science |
| Negar Soheili | Assistant Professor | Information and Decision Sciences |
| Kevin Suemnicht | Student - Graduate College | Anthropology |
| Alyssa Tello Haynes | Visiting Lecturer | Chemistry |
| Rachelle Tsachor | Assistant Professor | Theatre |
| Irene Tsapara | Lecturer | Mathematics, Statistics, and Computer Science |
| Nick Van Zanten | Student - Graduate College | Art |
| Kimmie Warner | Visiting Instructor | College of Business Administration |
| Quintin Williams | Lecturer | Industrial Engineering |
| David Wirtshafter | Professor | Psychology |
| Andrew Young | Lecturer | English |
Modified on April 16, 2018