RoomUIC
Sleep. Stay. Study.
Campus Housing has created a program for commuter students who need an option to stay on campus during finals week. Have an early exam and don't want to waste precious study time on your commute? Looking for a private, quiet place to study or take a shower? RoomUIC is available for you!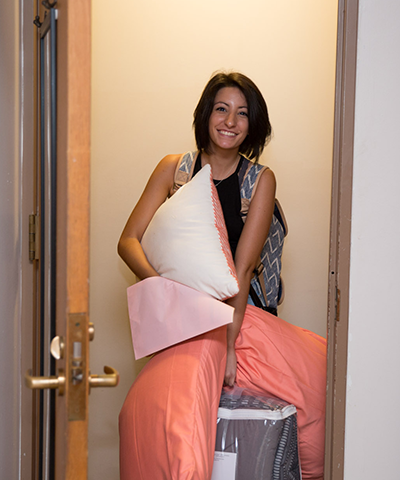 Room Amenities: Private room includes a twin bed with linens, desk and chair in our community style building.
Room Cost: $36 per night for a single occupancy space. All charges will be added to your student account.
Bookings: Rooms are available to current UIC students from Sunday, April 30, through Friday, May 5, at noon. Once your application is submitted, our office will confirm via your UIC email account. Limited availability.
Check-In Process: Check-in can occur between noon and midnight at the East Area Office (700 S. Halsted). Your I-Card will be activated to access the building and turnstiles during your stay, and you will receive a key to your assigned space.
Check-Out Process: Check-out is by noon on the day of your departure and requires returning keys to the East Area Office.
Policies: All guests must abide by Campus Housing policies.
Visitors: Visitors will need to be checked in and out at the East Area Office. A maximum of 3 guests may be checked in at one time.
Luggage Storage: Due to limited space, we are unable to store luggage before check-in and after check-out.
Cancellations: Cancellations must occur in writing to housing@uic.edu.
For more information or questions about the process, please feel free to reach out to Campus Housing at housing@uic.edu.