Contact Us
Contact Campus Housing
For general housing questions including application and contract agreements, contact the Housing Office at 312-355-6300 or by email at housing@uic.edu. Office hours are Monday through Friday from 8:30am - 5:00pm.
Note: Campus Housing does not have a centralized office location at this time for in-person appointments.
Residence Hall front desk locations are available for residents 24-hours a day.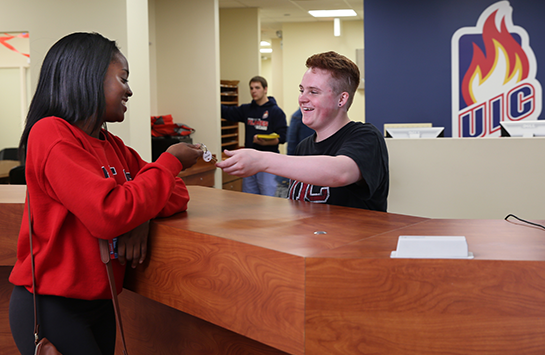 The residence halls are open 24-hours a day during the academic year.  Front desk locations are available to help with guest check-in, packages, key lockouts, and equipment rentals to name just a few services available.
East Campus Residence Halls
Commons West, Courtyard
312-355-6500
Academic & Residential Complex
312-355-7800
West Campus Residence Halls
Single Student Residence
312-355-6400
South Campus Residence Halls
James Stukel Towers
312-355-6000
Marie Robinson Hall
312-355-6200
Thomas Beckham Hall
312-355-6100