Student Staff
Campus Housing has several different types of student staff positions. Many student staff members work with other students daily and often live in the residence halls to assist with day-to-day life and build community in the halls.
Academic Year Positions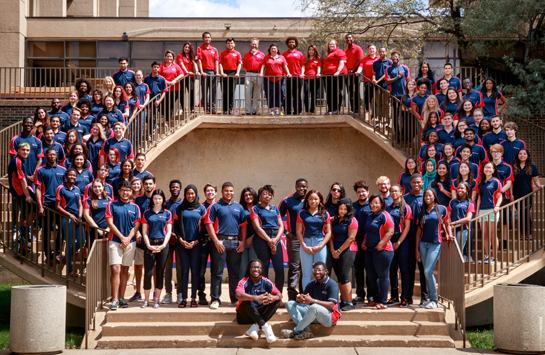 Building Service Aide (East, South, and West)
General cleaning duties within the residence halls including but not limited to: dusting, mopping, and vacuuming hallways, corridors, and other public areas. Assist Building Service Worker staff as needed. Other duties as assigned by the Building Service Worker staff supervisors. May work up to 20 hours per week, as needed.
Hours of operation: Monday-Friday 7am-8pm
Federal Work Study is required.
Campus Housing Representative (CHR)
General duties include typing, copying, and faxing; running errands; responding to telephone or e-mail inquiries; assisting the Central Housing professional staff; data entry; and upkeep of student housing records. One or two student workers will also primarily be responsible for couriering mail between the Housing offices and elsewhere across campus. Ability to work Saturdays during the school year, being able to be on-call for tours during the week, & able to complete tasks in a timely manner. General duties include: giving tours of residence halls, answering questions about Campus Housing, helping parents and future students understand the benefits of living on campus, and other marketing related duties as assigned.
Federal Work Study is preferred.
Desk/Security Worker (East, South, and West)
Provide customer service and administrative support. Answer phone calls and direct appropriately. Assist students with general questions. Manage rentals of carts, vacuums, and other items available to Campus Housing residents. Help with managing student ticket sales and mail/packages. Perform security checks of student keys and IDs at building entrances. Manage the registering of student guests. Rove the building to ensure all areas are safe and secure.
Hours of Operation: Daily, 8am – 12am
Federal Work Study is required.
Peer Mentor (PM)
Peer Mentors have the exciting opportunity to help first-year students transition to UIC and its residential communities. Primarily, Peer Mentors work to ensure that each first-year and transfer student have the necessary academic information, study skills, and resources to successfully navigate the UIC environment. While UIC is a large urban university, beginning students living in the residence hall can depend on getting a tremendous amount of attention from Peer Mentors to make their transition a success.
Federal Work Study is preferred.
Resident Assistant (RA)
Resident Assistants are primarily responsible for community building and support in the residence halls. The Resident Assistant position is a unique leadership opportunity for students to meaningfully contribute to the residential community at UIC. In their work, RAs serve as resources, community builders, administrators, role models, and peer educators with our residents. As members of a residence hall team, RAs work collaboratively with other departmental staff to create a vital and engaged living-learning community. Together, the hall team provides programs and services that aim to create an educational advantage. RAs are responsible for building and facilitating a positive and effective community.
Federal Work Study is preferred.

For More Information
No position vacancies currently exist for summer student staff positions.  
If you have further questions regarding student employment opportunities with Campus Housing, please contact housingjobs@uic.edu.